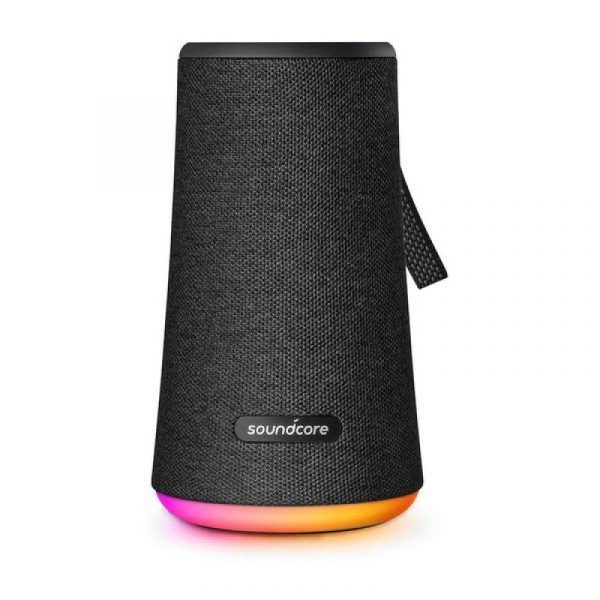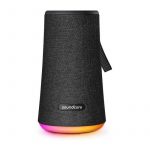 SoundCore Flare Plus
12 Months Brand Warranty
360° sound: two back-to-back full-range drivers are combined with dual passive bass radiators and tweeters to deliver 25W of all-around sound with breathtaking clarity.
Bass up technology: Precision EQ adjustment and driver configuration injects low end power for heart-thumping Beats.
Beat-driven light show: a halo of LEDs reacts and phases in time with the beat—multiple themes and illumination patterns can be customized via the
Sound core app.
Waterproof: ipx7-rated casing offers impermeable protection, even during complete submersion.
Wireless stereo: connect 2 flare+ speakers via a single device for seamless stereo sound* or double the volume.
Description
No matter where the music needs to be, Flare+ is suited up and ready. Super-safe IPX7 protection effortlessly withstands spills, rain, and even complete submersion in water.
All-around sound

: Dual drivers arranged back-to-back in combination with passive bass radiators deliver intense 360° sound. Make sure everybody in the room gets a stage-side experience as the music pumps, The lights Pulse, and the party rocks.

Breathtaking bass

: with bass up technology a customized digital signal processor first analyzes, then enhances your music's bass frequencies in real time. This audio signal is then turned into intensified sound via state-of-the-art neodymium drivers.

Sound and light in harmony

: watch a halo of LEDs phase, Pulse, and shine with the rhythm of your music for a completely immersive audiovisual experience from a portable speaker. 5 customizable modes tailor the atmosphere to suit your mood.

Double the power

: connect 2 flare speakers via a single Bluetooth device. Go stereo for an expansive listening experience that puts you all center-stage, or go into boost mode and double the power for an intense hit of light and sound.

Pool party proof

: no matter where the music needs to be, flare is suited up and ready. Super-safe IP67 waterproof protection effortlessly withstands dust, spills, rain, and even complete submersion in water.

Universal compatibility

: Designed to work with any Bluetooth device, including iPhone, iPad, iPod, Mac, smartphones, tablets, Laptops, Computers, Chromebooks, TV, and PC.